A recent piece of analysis from VIXIO GamblingCompliance put together was telling in what it told us about where the market for online sports betting is heading.
Gleaned from sports-betting GGR data from Illinois between March and May this year, the analysts showed that FanDuel made more than double the GGR from parlays than from all the other single bet types (32.4% vs. 14.7%). 
Indeed, such was the dominance of the FanDuel parlay product that it also eclipsed the entire GGRs for BetRivers, PointsBet, Caesars, Barstool, and BetMGM combined.
Now that is market dominance.
Chart: VIXIO GamblingCompliance on the dominance of FanDuel's Parlay product
The popularity of FanDuel's product is no accident. The company has worked hard on its offering – particularly regarding same-game parlays – and is arguably reaping the rewards.
Peter Jackson, CEO of FanDuel owner Flutter, said on the company's half-year earnings call in mid-August that 80% of FanDuel's customers played a parlay product in the second quarter. 
Further, with the product still developing, parlay participation will only increase from here.
"When I look in places like Australia, where we launched the Multi Revolution – which is what they call the Parlay product – back in 2016, and here we are six years later still evolving and developing the products," he told the analysts.
"Now I'm very confident that the situation will remain the same in the US with lots of innovation to come and us able to benefit from the expertise and innovation that the FanDuel team sees from their colleagues across the world."
Pushing At an Open Door
It is notable that Flutter is here talking about the fortunes of its parlay product largely outside of the football betting season. 
It can be assumed that take-up will increase across the market come kickoff next month.
A presentation of the NFL season 2021-22 put together earlier this year by Kambi, which provides the sportsbook backend solution to Penn National and Rush Street Interactive alongside a bunch of smaller operators, showed the extent to which Parlays have captured the attention of football bettors.
The stats show that 45% of NFL bettors placed a parlay bet during the season, while 3% of NCAA bettors also went the parlay route at least once. Meanwhile, 24% of all NFL bets were parlays, and 42% of those were multi-game parlays.
Lastly, a key statistic was that during Monday Night Football games, 36% of all bets were same-game parlays.
Parlays have hit a nerve with the punters, and enthusiasm for the product is now evident across the market.
For instance, their popularity was spoken about by DraftKings on its Q2 earnings call when it told analysts that the parlay bet mix rose 1,700 basis points in the second quarter compared to the prior-year period.
DraftKings CEO Jason Robins added that enhancing its parlay offerings was a "top priority," adding that he thought there was a "pretty high ceiling" as far as the amount of total handle that parlays would account for in the future.
Moreover, as parlays become ever more popular, Robins noted that DraftKings customers are adding legs to their bets, thus making them more profitable for the company. 
"The more legs you can get on parlays is also another really good thing – and it can increase hold quite a bit," he explained.
"Obviously, it depends on a number of different factors, like the underlying hold of the market, but it definitely can increase hold quite a bit, if you can get more parlays and more legs on those parlays."
Why Parlays Matter in Sports Betting
Profitability is a key reason for sportsbooks to press ahead with their parlay products.
In their recent sports betting update, Deutsche Bank analysts noted that hold percentages for single-event wagers tend to stay in the 4-6% range. In contrast, parlays routinely produce holds well into the double digits. As such, hold percentage, excluding short duration luck, will "essentially mirror the operators' effectiveness in pushing players into parlay wagers."
But other analysts have warned that if operators think that catching up with the market leader is just about making the parlay product competitive, they are likely mistaken.
The team at Wells Fargo said they would be "cautious" about extrapolating FanDuel's second-quarter profitability to other operators given its "competitive advantages," which include a higher parlay mix alongside superior in-house technology/product and a parent with abundant capital for marketing and promotions. 
The battle is clearly on for the hearts, minds, and wallets of the sports bettor, and this coming NFL season will be crucial in determining who wins out.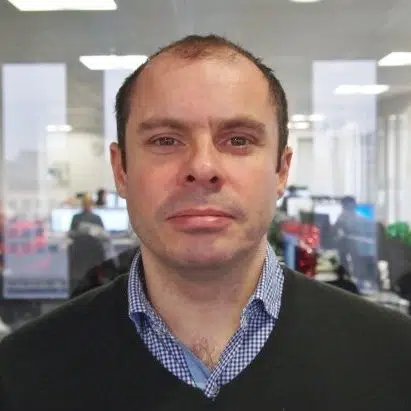 Scott Longley has been a journalist since the early noughties covering personal finance, sport and the gambling industry. He has worked for a number of publications including Investor's Week, Bloomberg Money, Football First, EGR and GamblingCompliance.com. He now writes for online and print titles across a wide range of sectors.